---
Frequently Bought Together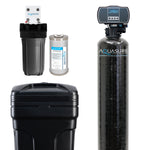 AS-HS32SCP
+
AS-PR75A
AF-SCZ-25HFS
Click here to go to support page
Description
Aquasure Water Softener System w/Aquatrol Digital Head And 10" Sediment/GAC/Zinc Triple Purpose Whole House Water Filter - 32,000 Grains
Products Overview:
The Aquasure AS-HS32SCP is made up of 2 separate system that provides the best quality water for the entire family. The AS-FS-25SCZ Triple Purpose Pre-filter helps remove larger particles and chemicals that may harm your home. The AS-HS32D whole house water softening system is built to provide soft, scale, and spot-free water for the entire house. Perfect for a household size of 1 - 2 bathrooms and up to 3 people.
Ideal for a family:
Sediment and Rust problem
Odor smell in the water
Chlorinated water
With hard water problem
Skin irritation
Specification:

AS-FS-25SCZ / Sediment / GAC / Zinc Triple Purpose Pre-Filter

Filtration Capacity: 50,000 Gallons
Connection Type: 1" NPT
Dimension 18" x 6" x 6" High Flow Housing with Cap
AS-HS32D / Whole House Water Softener


Water Production: 32,000 grains of hardness
Connection Type: 1" NPT
Dimension: 56" x 8" x 8" Resin Tank / 36" x 15" x 15" Brine Tank
Does the filer need to be replaced?

The pre-filter should be changed roughly every 6months.